Virtual Athlete is an interactive game that sits on your desktop. Once you have installed the game it will show up on your desktop like this if you click on here it will open into a window.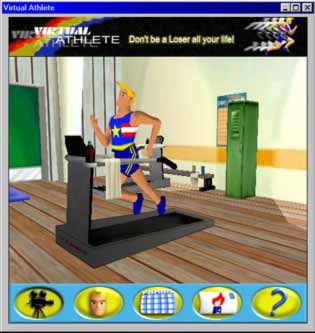 You have a control panel at the bottom of the screen, a central window that will show the 3D Interactive view, selection and schedule screens, and an advertising banner at the top.

You can search Sponsor websites to collect athletes (there are 40 to collect), choose athletes to train, make out schedules for their exercise regimes and diet, enter Virtual Athlete Competition Events for the chance to win big cash prizes, and play games with your athletes in the Virtual Athlete environment.

Extra games and activities for your athlete will become available as you progress through the game.

For more information on the game, read through our game guides.